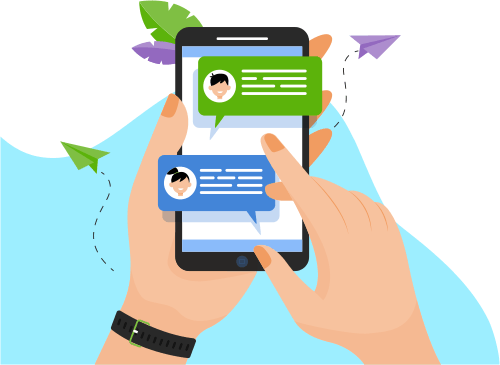 Now you can Instantly Chat with Sankalp!
About Me
• Senior technology and software development Architect with an exemplary 14+yrs track record of success in product development, software architecture, technical & operations management. Responsible for providing architecture leadership and strat...ture, technical & operations management. Responsible for providing architecture leadership and strategy for the Integration (between desperate systems - using different technology implementations via REST/SOAP & Web Methods), Middle ware(WSO2,Talend,Mule,Fuse,Software AG),Ecommerce platform (SAP Hybris, SAP CPQ,SAP Billing,SAP Marketing),Blockchain(Hyperledger,Ethereum), Investment, Financial, Banking, Retail, Mobile(Android/iOS App),Healthcare, ERP, Performance & Monitoring and Big Data(Cloudera and Horton platform)domain. Experience in architecture and deploying Cloud/Virtualization solutions (IAAS/PAAS/SAAS) for the enterprise customers on live Cloud platforms like Google Cloud, Oracle Compute Cloud, Amazon EC2 (via AWS), leaseweb.com, Microsoft Azure, Digital Ocean, IBM Blue mix, Pivotal Cloud and SAP Monsoon along with containerized deployment on Kubernetes, Open Shift & Dockers as well.
• Work almost over 14+ years in Java/J2EE along with the Integration platform like Mule ESB, Talend ESB, Fuse ESB, Oracle ESB, Oracle APEX & Software AG, Web Methods, SAP Hybris, Big Data and Oracle Fusion platform. Extensively work on MicroServices architecture with Spring Boot & Spring Cloud frameworks interacting through a combination of REST/SOAP and Rabbit MQ/Apache MQ/Kafka message brokers with the performance monitoring via Prometheus toolset. Work with Spring 4.x.x, Java FX, Struts 1.0 & 2.0, Hibernate 4.x, Python 3.x, Flask,Concentrix,Django web framework and other Python tools,JSF 1.x.x.Work extensively with different Application servers like WebLogic, WebSphere, Tomcat, Wildfly and JBoss. Work extensively with in memory databases like Redis, NoSQL databases like Hbase, Mongo DB & Cassandra, Blockchain databases like Bigchain DB & ThinkDB and RDBMS like MySQL, Oracle 11g, PostgreSQL 9.x.x, DB2 & SQL Server.
• Work for almost 2+ years on Android & iOS platform and design & implement Android/iOS based apps using Java & Kotlin like QR Code Generator, Multilingual Language Translator, Kitchen's real time app, Performance Monitoring app and Dashboard App. Involved in the end to end integration of these apps with different data sources via REST services
• Work for almost 4+ years on Cloudera's platform with main focus on Hadoop, HIVE, HBase, Hue, Zookeeper, Sqoop, Mango DB, and Cloud computing, Elastic Search, Logstash and data visualizations (using Splunk & Kibana). Exposure to Storm -1.0.3, Spark2.0.0 and Apache Ambari 2.5 (done POC on the same).
• Work for almost 4+ years on SAP integration with Hybris, B2B/B2C, SAP CPQ, Order Management, Order Fulfillment, Warehousing, Cron Jobs, Scripting, Rule Engine, Promotion Engine, Vouchers, Carts, Impex, Data Modelling, WCMS and Cockpits.
• Work with HTML4.01/5, CSS2/3, JAVASCRIPT, JQuery 3.x.x,AJAX, Node.js, Angular.js,Meteor.js, React.js, Underscore.js, Responsive Web Design(Vaadin framework) and Bootstrap. Develop internal and external services using Node.js and integrate UI components with Kafka streams using Node.js plugins
• Managed Amazon Web Services like EC2, S3 bucket, ELB, Auto-Scaling, AMI, IAM through AWS Console and API Integration. Experience in Server infrastructure development on Api Gateway, ELB, Auto Scaling, DynamoDB, Elastisearch, Virtual Private Cloud (VPC), Cloud Watch, ECS. Excellent in deploying the applications in AWS as EC2 instances and create snapshots for the data that have to be stored in AWS S3.Performed the automation and deployment of the PHP/Java based application Page1 via CircleCI (CI/CD) to AWS ECR to AWS ECS. Defined AWS Security Groups which acted as virtual firewalls that controlled the traffic allowed to reach one or more EC2 instances. Configured AWS Identity and Access Management (IAM) Groups and Users for improved login authentication. Installed the application on AWS EC2 instances and also configured the storage on S3 buckets.
• Extensively work on Integration Products (Mule, Software AG,Fuse,Talend) with focus on API(s) - SOA and REST based solutions, connectors like HTTP, SMTP, IMAP, FTP, FTPS, MQ and VM connectors using camel based transportation mechanism. Components like Files, Data weave, Filters, Expressions, DB connectors, Aggregators, Attachments and Exception strategy. Work on Software AG's web Methods developments and flow language, Trading Network Server, JDBC, SAP Adapter configuration & BPM processes.
• Involved in providing the RFI pliance) & ITT's (Invitation to Tender); Documents such as Functional Requirement, Technical Design, HLDs,LLDs,Work 's (Request for Information), RFP's (Request for Proposal), SOW's (Statement of Work), SOC's (Statement of Com Plan, Configuration, Installation, Deployment and User Manuals. Done the Efforts estimation for costs and identifying operational cost control mechanisms on different Cloud platforms.
• Set up the Oracle Cloud Compute IAAS solution(s) with the Oracle EBS, Oracle CRM, Oracle Financials, Oracle HRMS, Oracle Logistics, Oracle SCM, Oracle Order Management, Oracle Transportation and Oracle Warehouse Management, Siebel, JDEdwards, Oracle Primavera (P6) on Cloud and On-Premises, PeopleSoft HCM, Peoplesoft Campus and Oracle ATG (clustered environment). Integrates HCM Fusion with Taleo (TBE) using Fuse ESB (via Camel Routing) and Java APIs along with Oracle Controlled REST APIs and Oracle SOA components Perform the SSO implementation between Oracle Fusion HCM and Taleo. Possess the knowledge of Oracle CPQ
• Build and Deployment management via Hudson, Jenkins,CircleCI and Anthill Pro. In-depth knowledge of Apache Subversion (SVN) and Jenkins Continuous Integration Server - Installation, Configuration, Design and Administration, and integrating these tools with other systems. Configure the Kubernetes for automation of deployments on Linux via Docker
• Experienced in managing projects, leading teams and engineering products with exposure to customer interactions, product conceptualization and innovation. Performed key roles in projects with ACTEVA, GE, UBS Bank, Bank of America, Medipharmacy Group, ELO Touch Solutions, Opallios, Accretive Health, ITC, SAP and IBM
• Worked in various International locations like USA, UK and Malaysia for short terms assignments.
• Received the Outstanding Performance for the year 2010 award from SDG Corporation, Noida
Show More
Skills
Software Engineering
Web Development
Operating System
Data & Analytics
E-Commerce
Programming Language
Networking & Security
Others
Database
Development Tools
Software Testing
Graphic Design