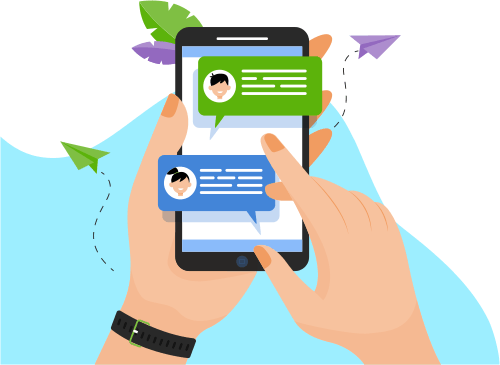 Now you can Instantly Chat with Khateeb!
About Me
Passionate iOS developer with 6 years of proven experience in working in a big team for big mobile app products which is running for a huge number of users. Background in testing, evaluating, designing and implementing solutions. So familiar with ...of users. Background in testing, evaluating, designing and implementing solutions. So familiar with implementation of UI easily accessible to every user. Elegant programmer writing well structured & easy-to-understand code with design patterns. Analytical problem-solver offering decision-making and time management skills. Tirelessly seeks frameworks with exceptional functionality while remaining easy to grasp.  Team player & good listener with a positive attitude to learn from others and some experience of tutoring others mostly in an Agile working environment.
Ready to develop invaluable applications that top charts across Apple's App Store. Already experienced in creating cutting-edge products for industries of Social Networking, Photo & Video, Shopping, Health & Fitness, Sports, Food & Drink, Music, Travel, Education, Navigation and Productivity. Dedicated to quality assurance with Test Driven Development.
Innovative iOS engineer proficient with Swift, Objective-c and Apple XCode, fully ready to jump into any iOS projects soon in deep. I am enjoying SwiftUI and Combine to build great-looking apps across all Apple platforms nowadays. I have little experience in Android projects also using Java and Kotlin. I expect to grow my Android experience also in actual Android projects starting from features, issues or bugs easy to build & fix in the future.
Show More
Skills
Web Development
Mobile Apps
Programming Language
Development Tools
Operating System
Database
Software Engineering
Software Testing
Networking & Security
Others
Graphic Design
Portfolio Projects
Description
ZeeMee is the must-have app for students looking at colleges, applying, and in college already. There's a community and chat for everyone, making it the easiest way to connect and make friends at your school! We also have chats for all majors, hobbies, and topics. ZeeMee is the best tool to use to connect before and in college.
FEATURES:
- Chats: Join interest-based chats through ZeeMee Social Groups and school chats to make friends, meet up, and talk about anything and everything.
- Friend Finder: Message and make friends with other people with a tap of a button. Filter who you want to be friends with based on interests, schools, year, major, and city.
- Roommate Match: Fill out a quick quiz about yourself and what you look for in a roommate to match with others who have the same answers.
- Study Buddies: Find people in the same class as you or taking the same class as you to help each other out with homework, rant about class, and more. *Currently only available to select college communities
- Audio Chat: When typing is too much and autocorrect is being annoying, use our audio chat to get to know your ZeeMee friends better.
- Events: Pop in ZeeMee events hosted by schools to get your questions answered, make friends with other students at your school, and win prizes.
I worked as a freelance iOS engineer to update new features for the  social networking for college on the iOS platform. I have built a course list with new UX design, privacy features of following and blocking, updated courses filter, and I was responsible for fixing bugs and issues as well. I have collaborated with team members in different roles - iOS engineers, product manager, web back-end developer, UX designer, etc in the Agile Kanban environment.
Show More
Show Less
Description
I was involved in development as an iOS engineer to build & improve iOS SDK and a demo App using the SDK for Digital Identity Verification & Fraud Detection Services.  I was responsible for collaborating with team members in different roles of UX designers, QA engineers, Product manager, Backend developer, Scrum master and other mobile engineers  to solve emergent technical issues and develop effective solutions.
Expedite secure customer onboarding and re-authentication, without degrading the experience with Socure's fully-automated multidimensional document verification.Socure provides identity verification at Day Zero and beyond. Our mission is to be the single source of trusted identity for every business-to-consumer transaction, eliminating identity fraud while fueling growth. Socure powers financial inclusion—approving as much as 40% more millennial and other thin-file consumers. It also reduces fraud for online new account openings by up to 95% with false positives of better than 1:1 and cuts manual review rates by as much as 90%.
Show More
Show Less
Company
Keelo - Strength HIIT Workouts for iPhone, iPad, AppleWatch
Description
I have contributed to the building of a new big sub-version of  their fitness workout  iOS & watchOS apps from scratch based on a new UX design update. I was responsible for building new main user stories and confirming the app functionality with UX designer as well as  fixing bugs & issues.
KEELO is the high intensity functional fitness (strength + conditioning) program that delivers real, measurable results.
KEELO IS FOR YOU, IF YOU WANT:
• Strength to lift & carry heavy objects in real life without strain
• Stamina to climb flights of stairs without feeling winded
• Endurance to hike long distances without trouble
• Physical independence throughout your life
MORE ABOUT KEELO
FULL BODY WORKOUT
We combine strength, cardio, and conditioning into one program. You'll work and develop your body's full musculoskeletal, central nervous, cardiovascular, and metabolic systems.
PERSONALIZED PROGRAM
Keelo's AI-based algorithm examines your entire workout history to ensure you're working all parts of the body and getting the most out of your workouts. We keep the muscle confusion high.
DON'T THINK, JUST DO
We show you exactly what to do. No more guessing: "what workout should I do today?" Keelo keeps track of your scores and progress.
DO ANYWHERE
At home or gym. Bodyweight-only workouts included. Some gym equipment, e.g. barbell, dumbbells, kettlebells, recommended. But don't worry. If you don't have equipment, let us know. We'd be happy to suggest alternatives!
LEADERBOARDS
See how well you've done compared to others in your peer group!
FREE COACHING BY EMAIL
Email your coach at coach@keelo.com at any time to ask questions about workouts, alternative movements, weight selection, and more. We want you to succeed.
COACHING BY CHAT (PREMIUM)
Chat with your coach to get faster responses to your workout questions.
APPLE HEALTH
With your permission, we sync your calories burned and workout time with Apple Health. If completed through an Apple Watch, we also record your heart rate during the workout.
More Features:
• HD instructional videos for all movements.
• All workouts scalable to beginners and experienced alike.
• Works with most Bluetooth heart rate monitors.
• No login required. Just open the app and go.
• New workouts added regularly.
Show More
Show Less
Media