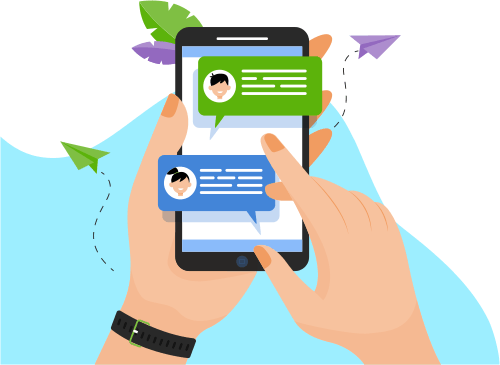 Now you can Instantly Chat with Rameswar!
About Me
Zeal… 'to do something new' is the underlying fuel which drives me,… it drives me day in, day out to do something creative,… creative yet significant,… signifying the quality,… quality which is only achieved by doing whats needed,…... significant,… signifying the quality,… quality which is only achieved by doing whats needed,…and in reality 'commitment, discipline, right approach & the habit of sticking with the basics' is all that, which brings best out of me.
With a foundation in software programming (majorly centring around Android Apps), I bring & enjoy this expertise in developing products for product development companies.
Mobile enthusiast with 6+ years experience of developing innovative and complex Android Apps. I'm a Creative technologist, Self-motivated and Results-oriented professional with proven interpersonal and problem-solving skills. I love to keep my hands dirty in coding, designing solutions, code review & in most of all kind of tech work.Also having experience to write test cases using Appium and jUnit.• Developed over 20+ Android Application • Flexible to adapt new skills and environments. • Worked on all kind of mobile application and have good experience including :- E-commerce based application (Retail, Resturant)- Video/Audio Streaming Android Apps- Location & GPS Based Real Time Android - Payment Gateway Integration- Enterprise Android Application- Web Service Based Android Apps- AddressBook, Calendar based Android Apps- Social Networking (Facebook/Twitter..etc)- Bluetooth communication with external device- Library and framework developmentSpecialities: Android, Technical Architecting, Application Programming and Software Bundling, Cryptography, SQLLite, Core Data, AdMob, Twitter Fabric API, Facebook API, InApp Purchase, Maps API, google charts, Zing, Accelerometer, GPS, Maps, Web Interaction, Mail & SMS Interface, Camera, Photo Gallery, Proximity Sensor, Socket programming etc.Project Management Tool : JIRA, SVN, Mantis, Bugzilla, git. 
 
Show More
Skills
Web Development
Others
Programming Language
Database
Development Tools
Operating System
Software Engineering
Mobile Apps
Graphic Design
Portfolio Projects
Description
Odisha Police is committed towards time bound delivery of services to the Citizens and provide good governance in the State. In order to provide better and quick services to Citizens, Odisha Police has launched Mobile App "SAHAYATA" under CCTNS Project. This App will enable citizens to request for different Police services, complaints and download copy of FIR as well as to track the status of different services.
Show More
Show Less
Description
This is citizen centric mobile application. Citizen can raise various requests related Uttar Pradesh Police department through this application and can track the request status until the final closure. Other useful tabs makes this application robust/capable for viewing the information related to public welfare.

We Are Providing Services:
1. Register e-FIR (ई-प्राथमिकी पंजीकरण )
2. View FIR (प्राथमिकी देखें )
3. Report Lost Article (खोयी वस्तु का पंजीकरण )
4. Know Nearest Police Station (अपना थाना जानें )
5. Accident Alert Area (दुर्घटना चेतावनी क्षेत्र )
6. Stolen/Recovered Vehicle (चुराये गये/बरामद वाहन )
7. Character Certificate (चरित्र प्रमाणपत्र )
8. Domestic Help Verification (घरेलू सहायता सत्यापन)
9. Employee Verification (कर्मचारी सत्यापन )
10. Tenant Verification (किरायेदार सत्यापन )
11. Procession Request (जुलूस अनुरोध )
12. Protest/Strike Request (विरोध / हड़ताल पंजीकरण अनुरोध )
13. Event Performance (कार्यक्रम/प्रदर्शन निवेदन)
14. Film Shooting (फिल्म शूटिंग )
15. Postmortem Report (पोस्टमार्टम रिपोर्ट )
16. Senior Citizen (वरिष्ठ नागरिक)
17. Divyang (दिव्यांग )
18. Share Information (सूचनाएं साझा करें)
19. Report Misbehavior ( ख़राब ब्यवहार )
20. Search Status/Download (स्थिति खोजें/डाउनलोड करें )
21. Emergency Helpline (आपातकालीन हेल्पलाइन)
22. Unidentified Dead Bodies (अज्ञात शव)
23. Missing Person (लापता व्यक्ति )
24. Rewarded Criminals (इनामी अपराधी )
25. Arrested Accused (गिरफ्तार अभियुक्त)
26. Cyber Awareness (साइबर जागरूकता )
27. Call Us (फ़ोन मिलाये)

Services Available in हिंदी / English
Show More
Show Less
Description
DevBhumi mobile application is basically developed for uttarakhand citizen.By using this mobile application user can register their complaint from anywhere and also check the status to their complaint.
Show More
Show Less