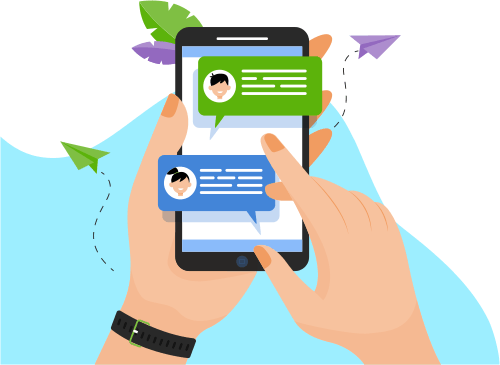 Now you can Instantly Chat with Vinay kumar a!
About Me
Dedicated Frontend Developer with 6+ years of experience in Single Page application design and development.
Good experience in software development life cycle (SDLC) in developing

...

Good experience in software development life cycle (SDLC) in developing and designing web applications using HTML5,CSS3/SCSS, Bootstrap, JavaScript (ES5), jQuery, Angular 2, 4, 5, 8.
Proficient in Bootstrap and media queries to achieve responsive web design (RWD).
Solid understanding of Object Oriented Programming (OOP) and capable of implementing OOP in JavaScript.
Worked Extensively with Browser compatibility issues related to IE.
Proficient in using Angular framework concepts (components , directives, pipes, Routing, Forms, Services, Interceptors )
Basic knowledge on Micro Frontend Architecture, Implemented using Single-Spa.
Built services to consume Restful services using Http, JSON for data transfer.
Knowledge in using Observable and Observer of rxjs in Angular application
Familiar with popular browsers development and debugging tools/ plugins for IE tester, Chrome Inspector and Firebug.
Efficiently used library like loadash.js and underscore.js
Knowledge in adding Google Map, Leaflet Map and Cesium.js in Application.
Used Graph libraries like amchrts, highcharts, ChartJS, D3.js.
Familiar with Webgl and Canvas API and developed 2D and 3D models using Three.js on browser.
Used Reporting libraries like exceljs, xlsxjs, htmlToPdfjs and jspdf.js.
Worked with Angular UI Framework like PrimeNg and Angular Material.
Building angular app using angular CLI and Deploying on server using CI/ CD.
Hands-on experience with using software version control tools like Git and TFS.
Show More
Skills
Web Development
Development Tools
Programming Language
Others
Graphic Design
Portfolio Projects
Role
Project Manager (Team Lead)
Description
Intap is a End to End Implementation of Recrutment Process. It involves multiple modules like, Operation persona, Recruter Persona, Offer Module. It takes care of the process like posting requisition to the channels , Scheduling events, scheduling interviews , Proposing offer, Approving or rejecting Offer based on different roles.
Show More
Show Less
Description
Clariti was web dashboard built to monitor the oil well data. Application used to get the data from the sensors placed inside the well. Application had modules like schematics, Charts, Alerts, Settings. Parameter like temperature , pressure and flow rate were captured and showed on the schematics. Alerts were triggerd if any of the values is out of the throushold range.
Show More
Show Less
Description
MIB-LIFE is a mobile app which is used to calcualte life insurance premium , it has fetures like plan details, premium reniwal reminder , option to save cutomer records.
Show More
Show Less