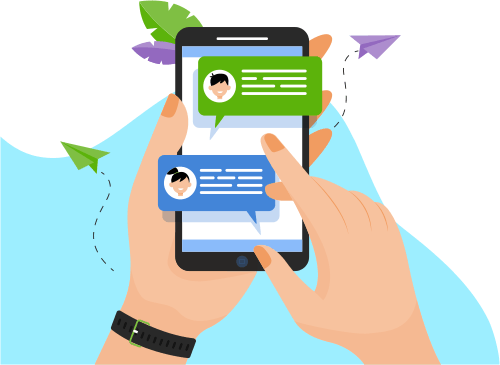 Now you can Instantly Chat with Nityam!
About Me
J2EE Developer with over 5+ years of experience with all stages of the development cycle, for projects in AGILE and SDLC models.
Experience in Analysis, Design, D

...

Experience in Analysis, Design, Development, Integration, Deployment and Maintenance of Web services, Enterprise and Distributed Applications, Client Server and Web applications.
Extensive experience in designing and developing Enterprise Applications for J2EE platform using Core Java, Servlets, JDBC, JSP, Spring, Spring Boot, Spring DATA, Spring JDBC, Hibernate, XML, Web services, JMS, Eclipse, RAD, Ant, Maven.
Working knowledge of developing/implementing Microservices and Web Services using REST.
Extensive programming experience in developing Microservices using Spring Boot with Java 8, 7.
Proficient in creating Web Services using Spring Boot.
Experience in implementing a Microservices with Spring Boot based services.
Expertise in IDEs and tools like RAD, WebSphere, Eclipse, JBuilder, Visio, Rational Rose, TOAD, Maven, Cruise Control etc.
Experience in building Microservices using Spring Boot and deploying to AWS Cloud.
Knowledge on CI/CD practice and tools like JIRA, Jenkins, Maven, IDEs and Confluence.
Expertise in Web Services architecture in SOAP and WSDL using JAX-RPC.
Strong working experience Object Relational mapping (ORM) tools like Hibernate (Hibernate Connection Pooling, HQL, Hibernate Caching, Transactions).
Expertise in back-end procedure development, for Database Applications using Oracle, DB2, SQL and PL/SQL, SQL Server.
Hands on exposure to multiple Application Servers like JBoss, JBOSSDROOLS engine, IBM WebSphere Server and BEA WebLogic.
Good Knowledge in XML technologies including XML, XSD, XSLT, (DOM, SAX), SOAP, WSDL, Web Services using AXIS
Involved in building and deploying Apache ANT/ MAVEN scripts for deployment and customizing WAR/ JAR file management for web applications.
Well experienced in using JUnit for performing unit-testing framework.
Expert in Various Agile methodologies like SCRUM, Test Driven Development (TDD), Incremental and Iteration methodology and Pair Programming as well as implementing Waterfall model.
Worked using IDE like Eclipse, My Eclipse, Netbeans.
Good experience with Cloud Deployment using Spring PCF with Azure and AWS.
Expertise in using IDE's including: IntelliJ IDEA and Eclipse.
Expertise in using configuration management tool like SVN and GIT for version controlling.
Highly motivated team player with strong communication, analytical, documentation and organizational skills.
Show More
Skills
Software Engineering
Web Development
Programming Language
Software Testing
Development Tools
Database
Operating System
Others
Networking & Security
Graphic Design