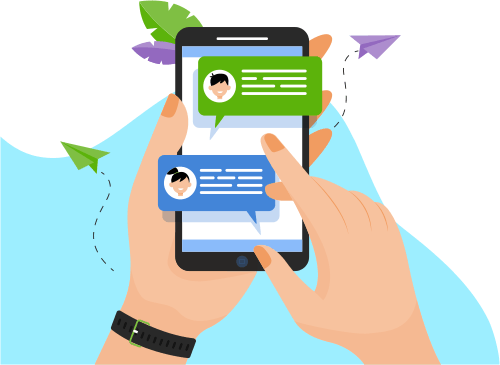 Now you can Instantly Chat with Dinesh!
About Me
5+ years of experience in Android application development
Strong Knowledge in OOPs (Object Oriented Programming System) concept
Executed Android views, fragments, and UI application components.
...
Executed Android views, fragments, and UI application components.
Knowledge of Android Handset and Tablet application development
Experience in working with a client and technical teams
An effective team member with proven abilities to be a part of them
Excellent communication, collaboration, interpersonal skills and a strong commitment towards Customer Satisfaction
Formulated application requirements and provided advisory functions for UI solutions
Experience building apps compatible with all latest Android OS versions
Knowledge of using GIT version control systems
Flexibility and dexterity to handle multiple tasks
Experience with communicating with the server using REST APIs using Retrofit
Translate business requirements logic into code
Working in Agile environment methodologies and used JIRA tool
Experience in Unit Testing Frameworks – Espresso, Robotic, Mockito, and JUnit
Show More
Skills
Web Development
Development Tools
Programming Language
Software Testing
Software Engineering
Database
Mobile Apps
Others
Portfolio Projects
Description
The Sentara app from Sentara Healthcare provides convenient access to Sentara locations near you and ways to connect with us. This is the official app for Sentara Healthcare, a not-for-profit health system in the USA with more than 100 sites of care across Virginia and Northeastern North Carolina. Quickly find Sentara services nearest your location. Find a Sentara location near you using a map and a list of locations including emergency rooms, hospitals, and more. Touch or click any location to get more information including a phone number and driving directions.
Show More
Show Less
Description
Optima Health provides health plan coverage throughout Virginia. We offer a full suite of commercial products including consumer-driven, employee-owned and employer-sponsored plans, individual and family health plans, employee assistance programs, and plans serving Medicare and Medicaid enrollees. Our quality provider network includes specialists, primary care physicians, and hospitals across Virginia.
Show More
Show Less
Description
DabKick - Experience Entertainment Together With Friends LIVE.
Watch videos, listen to music, and view photos together with friends LIVE. Chat, cheer, comment, and laugh at the same time - with friends on any smart phone from anywhere. Have fun together!
Show More
Show Less